Dr. Pooja Mahadev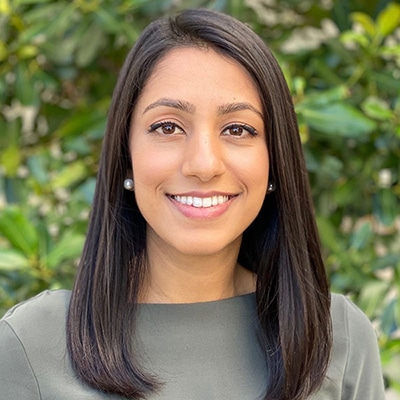 Ophthalmologist Eye Doctor in Astoria & Bayside, Queens, NY
Dr. Pooja Mahadev was born and raised in the Pocono Mountains in Pennsylvania. She attended Penn State University where she obtained her Bachelor of Science degree in Biological Sciences and Health Professions. She then graduated from SUNY College of Optometry with her Doctorate in Optometry. She continued her education at Nova Southeastern University to complete a residency in Primary Care with Emphasis on Cornea and Contact Lenses.

Dr. Mahadev is passionate about providing personalized and high-quality patient care. She provides comprehensive eye exams and has experience in treating and managing various ocular conditions including glaucoma, macular degeneration, cataracts, allergic conjunctivitis, and dry eye disease. Additionally, Dr. Mahadev is experienced in fitting specialty contact lenses for corneal conditions such as keratoconus, pellucid marginal dystrophy, ocular surface disease, and corneal dystrophies. She also has a special interest in myopia management and uses orthokeratology, soft multifocal contacts, and low-dose atropine to slow the progression of nearsidedness in children.

Her passions outside of optometry at our LASIK clinics in Bayside and Astoria, New York include skiing and playing tennis. In her free time, Dr. Mahadev enjoys traveling and spending time with her friends and family.