How Long Does It Take To Recover From LASIK?
Posted by: Metro Eye MD in Lasik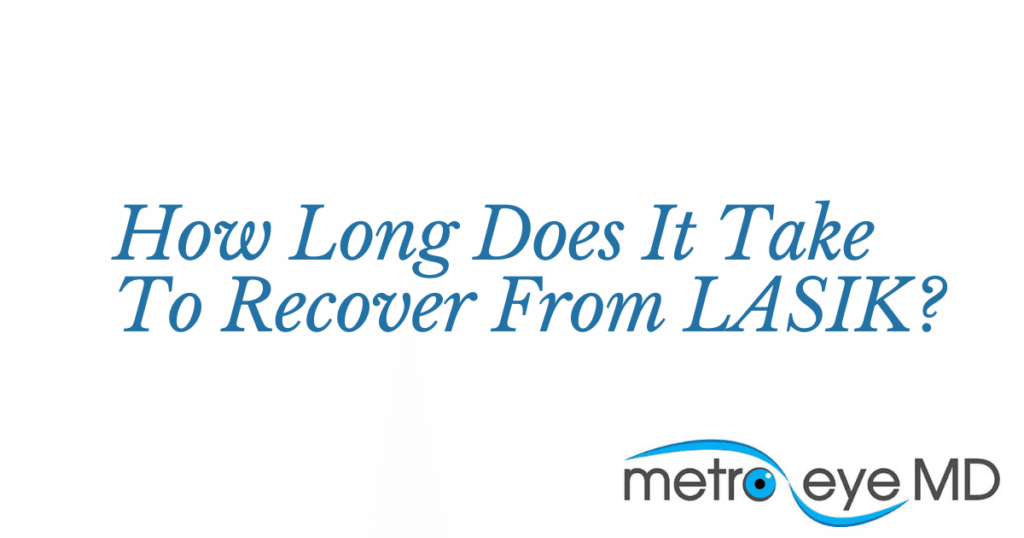 Before choosing LASIK surgery, one of the main concerns for many people is the estimated time it would take them to recover. Fortunately, this surgery is highly impressive in the speed at which many people recover.
The body is a wonderful thing and works incredibly hard to recover from even the smallest of surgeries. Even though LASIK might seem like a massive surgery, it pales in comparison to many other surgeries that keep people in bed for weeks, or even months.
What Is The Estimated Recovery Time For LASIK Surgery?
The great thing about LASIK surgery is the recovery. The average person would need around 24 hours to recover, which means you could be back on the job 2 days after the surgery. Other patients have recovered fully within 6 to 12 hours, but your eye surgeon would recommend that you wait a couple of days just to make sure everything is fine.
In very rare cases, it could take up to 5 days for the eyes to heal. If this happens, you should not worry too much, as each person handles recovery differently. The best thing you can do is to continue the postoperative process that your doctor has prescribed. This would surely make the recovery as quick as possible for your body.
Guidelines For LASIK Surgery Recovery
If you have undergone the surgery, your doctor would prescribe a specific set of postoperative instructions for you to follow. However, here are a few of the instructions you should keep in mind and prepare for before going for the surgery.
A protective eye shield should be worn as directed by your eye surgeon
You should avoid putting or applying pressure to the eyes for at least 5 days to a week post surgery
Skip out on going swimming for at least one week, even longer if you plan on swimming in the ocean
High-impact activities like contact sports should be avoided for up to two weeks after the surgery
It is best to listen carefully to your eye surgeon and follow the instruction they recommend. Since each person is different, there is no one-size-fits-all answer to how long recovery would take and what you should be doing during these few days or weeks.
In general, most people would be able to return to work within the first week after the surgery and vision should naturally start stabilizing each day. Rest is the best way to allow your body, including your eyes to recover.
---